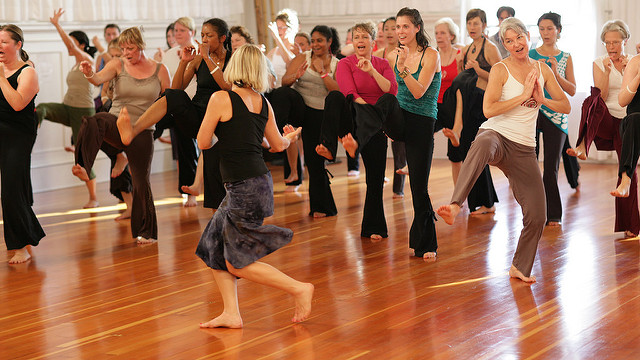 What is The NiaTechnique?

Nia seamlessly blends strength-building power movements with more graceful, flowing movements that promote balance and flexibility. Sometimes slow, sometimes fast, we raise the heart-rate, slow it down, and raise it again and again over the course of a one hour class. Instead of feeling beat or wasted at the end of class, students report feeling more energy and relaxation at the same time.

Nia combines movements from a variety of disciplines to generate the sensations of fitness: flexibility, agility, mobility, strength, and stability. These clearly defined and simple movements are blended into easy-to-follow sequences, so students need no prior experience with any of the actual movement forms to feel successful in class.

Nia is a movement practice, in the same way that meditation is a practice. Even though I have been a devoted student of Nia for over 20 years, I continually find something new and engaging about my practice. Even though I have been through four week-long intensive trainings, many workshops, and practice as a black-belt certified instructor, I continue to make new physical and perceptual discoveries through the work. Nia instructors are licensed and certified by an international organization (see nianow.com) and we are required to do continuing education, like other licensed professionals.
**Scroll to bottom of this page for Tips for New Students!



Nia Backstory

The creators of Nia, Debbie and Carlos Rosas, owned an aerobics chain in the Bay Area called The Bod Squad in the 70's and early 80's. They noted a high rate of injuries throughout the industry related to the no-pain, no gain attitude and high-impact classes popular at the time. So they set out to study a variety of different movement forms and learn how their own movement practice could benefit. They took basic aerobics and incorporated movements and attitudes from martial arts: tai chi, tai-kwon-do, and aikido, dance: specifically, modern, jazz, and Duncan, and healing arts: yoga, Feldenkrais, and Alexander Technique – and produced the first-ever interval training class, The Nia Technique.

Nia at

Timberhill Athletic Club:

Tues/Thurs evenings at 6:45pm

Sunday mornings at 11:30am

Ongoing, membership or $12.00 day pass

​

Timberhill Athletic Club

2855 NW 29th St, Corvallis
​

541-757-8559

​

Nia at Chintimini Community Center:

Mon/Wed mornings at 11:00am

Tues/Thurs evenings at 5:00pm

​Register for approx. 10 week sessions (economical)

​or $8.00 drop-in

Chintimini Community Center 2601 NW Tyler St., Corvallis
​541-766-6959
| | |
| --- | --- |
| What does Nia do for you? Responses from Leela's students... | |
As a long time student and instructor of the Nia Technique, a body/mind fitness class at Timberhill, I can say that it gives me vitality, well-being, fitness, joy, a passion for living, and it keeps me connected to my heart and my highest purpose. I often feel like a broken record trying to describe what it is to those who have not done it – and, like chocolate, it must be tasted – it can't be adequately described. So, I invited some of the Nia regulars to tell you what they get out of class and here are excerpts from some of their comments. (A heart-felt THANK YOU to all who participated!) You, too, can experience the joy of moving and being in your body, no previous experience necessary.

I love that Nia has the power to make me forget I'm exercising, because it's so fun. Nia is based on a variety of movement traditions, including martial arts, yoga, and modern dance, and I feel that my body and spirit receive a wide range of benefits, from stretching to strengthening to cardio. Nia is exploration through movement--it never gets boring! ~ K.M.
Nia provides regular practice of awareness of my body in space and is gradually allowing me to move with more freedom and awareness in all of my life. ~ C.S.
Nia class is perfect for my physical level with enjoyment. When I do Nia I can release tension and feel peace of mind. ~ M.K.
This class is an excellent combination of aerobics, muscle training, coordination training and stretching. It also helps me relax mentally. ~ S.N.
After trying a variety of classes over the years, I've found the one that gives me strength training, agility and flexibility work, and cardio benefits like no other. It's a fun fusion of dance, martial arts, and healing arts with great music! There's no strain for perfection in a Nia class. You'll find a variety of dancers of different body sizes and fitness levels smiling as we move through our own personal adaptation of the moves trusting ourselves as we make each hour of exercise our own. ~ L.F.
In one word answers : Joy, release, balance. A low back injury forced me to let go of running, Zumba, belly dancing, and several other activities through which I'd previously found fitness and peace of mind. When I dance Nia I feel confident that I can choose the right level of intensity to take care of my back, and still experience fitness and cardiovascular wellness. ~ C.F.
I enjoy Nia because it's fun to dance. Out of all the classes I take at Timberhill I think I smile the most in [Nia] class. ~ GA
Nia is like yoga for my mind & spirit; I feel looser, more flexible at work and I feel like dancing around the kitchen at home. It's cool that it incorporates Martial arts moves and concepts. Nia is powerful and playful- a fun and challenging practice for me. ~ K.M.

​

I've enjoyed the flowing movement of the Nia class that prompts you to listen to your body. The instructor is a role model and very supportive in class. For those who have said to me, "I can't do the Nia class because you have to be bare foot and I have flat feet", I'll say to them, it's o.k. to wear shoes, I do! ~ P.N.
I would love to share what I get from NIA. I tell people it is my church. The most open hearted, uplifting, emotional, mindful congregation I have experienced. My body feels more flexible and elastic, including my organs. And joyfully, my mind. Setting new patterns and intentions. ~S.S.
​I love Nia because it improves my strength, my energy and my flexibility all at once and absolutely painlessly, without any drudgery, without having to memorize drills or movements, and it lifts my spirits. I can come to class feeling tired, depressed and/or stressed, and I leave loosened up and full of joy and energy. ~ C.S.
I love Leela's Nia class because no matter what my mood is at the start, I feel light and happy by the end of class. Also, it is exercise but feels like fun, not work, the time flies by. ~ S.K.
Nia is a freeing, gratifying experience that is so much soul-soothing fun you hardly realize you're also getting a great workout. ~ M.W.
Nia gives you physical and emotional strength to help you in your personal journey through life. I have health issues that have become easier to overcome since I started Nia. I highly recommend the class to everyone who wants to enjoy creating a healthy workout program for your body and soul. ~ V.B.
I notice when I do Nia I move through the world more gracefully for days afterward, lighter in body and spirit. It's amazing for the body and helps lift the late winter doldrums! ~ G.W.
Nia is the best "full body" workout I've found. It's energizing and aerobic, yet gentle to my old injuries. I really enjoy the variety of music exercise routines. Leela is a fantastic instructor! ~ M.F.
The movements, music and directions of Leela during the class, stimulate positive thinking and helps you start feeling more confident, happy and hopeful. Every time I go to classes I feel more positive about myself and others…. Sometimes I am dancing but at the same time I am praying and sending love and strength to my loved ones. I am very grateful and feel very lucky to have met Leela and Nia. It is not just a class - it is a way of living. ~ M.I.S.
I love Leela's NIA class! My body, emotions, and spirit are nurtured and liberated by the way she integrates music, movement and positive messages for self-healing, gratitude and love. Her teaching style encourages self-expression, spirituality, and a feeling of joy in one's own body. I feel focused when I dance with our group. And I get a good workout to boot! L.H.


​
Tips for New Students
Hydrate well, about 30 minutes before class. Drinking plenty of water helps to lubricate your joints. Bring a water bottle with you for a quick sip during or after class.
Dress to move – anything that frees your body or inspires your imagination. Fabrics with some stretch allow maximal movement. If you would like to free your hips, draping a sarong around your pelvis or wearing a skirt can help draw your attention to moving a little more in that area.
Try bare feet: Nia was developed for moving in bare feet. If you are healing a medical condition that would make it uncomfortable or unsafe to go barefooted – please wear shoes. Shoes that people enjoy for dancing include: Nike Free and Vibram 5-finger shoes (which can often be found on sale), and MBTs (more expensive). And there are lots of shoes on the market that might work for you. Plantar flexion in a shoe helps develop stronger, more stable feet. For more information about the benefits of moving in bare feet see my blog "Why do we do it barefooted?" Listen to your body and always do what is right for you. In Fit for Life and Moving to Heal, many people wear shoes, in Nia, fewer people wear shoes. I love to exercise my feet, so I do not wear shoes.
Protect your knees. Pick up your feet and place them in the direction you want to go. Avoid dragging the feet or twisting the ball of the foot in contact with the floor. A blister is your body's way of letting you know it is experiencing too much friction. Eliminate friction between your feet and the floor.
Go easy on yourself. Practice beginners mind. There is nowhere to go and nothing to do but be present with where you are on any particular day. 'Trying hard' to 'figure out' a movement can lead to frustration. Practice softening your gaze and receiving information through your five senses, rather than figuring it out with the mind.
Listen to your body. Find the pleasure in your movement. In the beginning, start small, give your body/mind time to adjust to something new. Nia is taught in levels 1 – most compact and simple, 2 – adding more dynamism to the movement, and 3 – pushing your edge. Start with level 1 and only take it up to another level when YOUR body says to.
Ask about your concerns. Nia, Moving to Heal, and Fit for Life are great for those healing chronic or life threatening diseases and conditions and Leela has experience teaching people healing cancer, MS, fibromyalgia, cardiovascular disease, and other conditions. If you have any questions, please ask. Often, a life-threatening illness or severe trauma can leave us feeling that we can no longer trust the body. These movement forms provide a safe way to reestablish a healthy connection with our bodies and ourselves.
Be who you are. Nobody is watching you. It is not high school. You are not being judged or graded. Each participant is focused on her/his technique and the focus for the class. You will notice, perhaps after an initial period of shyness, that you are appreciated for being who you are. Diversity rocks!
Breathe! Use your whole body to breathe, expanding belly and chest. The sounds we use in Nia facilitate whole body breathing and help move stuck emotional energy. If you feel shy about sounding in the beginning, use a breath sound, such as "shhhhh!" to feel your belly button moving towards your spine. We make the strong "Ha!" sound on a kick or punch to contract the abs, which provides anterior support for the spine in the movement. This also pushes the diaphragm, forcefully expelling the sound and generating a feeling of power.
Find your own pace. It is ok to move slower if that is where your body functions best. If the whole class is doing a particular move fast, and your body says 'whoa!' listen to your body, it knows! Listening to your body is the best way to prevent injuries.
Modify movements. If a particular movement is not working for your body, stop and examine the movement. For instance, if your knee and foot are not pointing in the same direction, you could experience knee pain. Line up the foot and knee and see if that helps. If technique is not the problem, please alter the move to facilitate comfort. This is YOUR workout, move in a way that is safe and effective for your body.
Experiment with counting if you think you don't have rhythm. You will find the moves usually come in a series of four counts. Copy the instructors foot placement on the 'one' and everything else will fall easily into place. Again, give yourself a break – it takes time and repetition for your body to grow new neural connections to make an unfamiliar movement or pattern feel natural. And – you WILL grow lots of new neural connections which lead to a greater sense of grace and coordination if you continue your movement practice.
Let go of perfectionism. Remember these movement practices are just that - Practices. Bring an open heart and an open mind and let go of 'achieving perfection' – there is always something new and fascinating to learn about yourself in relation to the practice.
Notice that the other students are super-nice - and willing to help if you are feeling lost. People in my classes are welcoming to newcomers, so no need to be shy. They will give you space if they sense that you do not want to interact, so it's a safe space if you are an introvert.